MISSION・VISION
We align our employees' focus on Mission, Vision, Value and Action.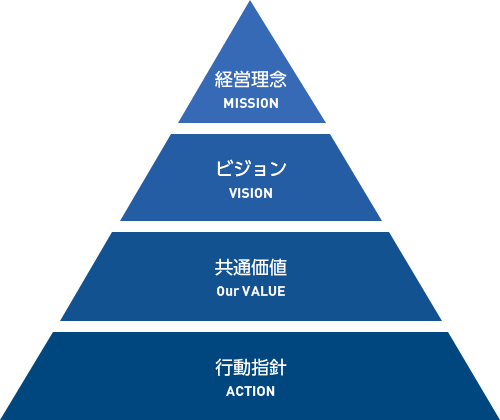 MISSION

We think positively and aim for steady advancement.
We would like to contribute to the advancement of society through the products we make.
We will improve people's quality of life with our products.
We aim to creatively produce safe and reliable products which will appeal globally.

VISION

Fuji Terminal Industry Co., Ltd. makes it our first priority to be a company which "Connects and protects the ideas of the people of the world". Our thoughts on customers, thoughts on employees, thoughts on the future… We respect everyone's ideas, and will provide the best products and services which we hope will bring a smile to everyone's face.
OUR VALUE

「Progress」・・Think positively and aim for steady progress.
「Contribution」・・Contribute to society through the products we make.
「Pursuit」・・Improve people's lives through our products.
「Creativity」・・We meet our customers' needs by creatively designing and manufacturing safe and reliable products which will be appreciated around the world.
ACTION

Treasure Health: A bright and healthy person will naturally find his or her way.
Treasure the Now: Tomorrow is not the extension of yesterday. Do what you need to do NOW.
Start from the Self: An organization is a group of individuals. By building the skills of each individual, we make a strong organization. Start by innovating yourself.
Hand in Hand: Connect to many people. In order to do so, understand the other deeply, and communicate openly about your thoughts.
Believe in Tomorrow: Believe that the one step taken today will create the better tomorrow, and persist with the effort.
SLOGAN

Company Slogan

"Protect our days, and connect us to the future."
Fuji Terminal Industry Co., Ltd., supports our daily lives with products that are not obvious to see. We will strive to contribute towards your safety and comfort for centuries to come.

Safety Slogan

"Safe workplace, safe products."
THOUGHTS ON THE ENVIRONMENT AND QUALITY

Environmental Principle

We believe in protecting the environment; it is shared by humanity and we must work together to protect it.
Surrounded by rich, beautiful nature, we do not restrict our creativity when it comes to protecting the environment. We aim to keep a comfortable living environment for the citizens of Mimasaka City by adopting the Environment Management System as defined in ISO14001, preventing pollution and working on reducing stress on the environment. We constantly try to improve!

Environmental policy

| | |
| --- | --- |
| 1) | We create environmentally friendly products. |
| 2) | We evaluate our influence on the environment, set goals for the environment and regularly review the environmental impact of our activities. |
| 3) | We continuously work on conserving energy and other resources. |
| 4) | We actively recycle and strive to reduce waste. |
| 5) | We respect and strive for compliance with legal and regulatory requirements on the environment. |
| 6) | We provide training and education on Environmental Management Systems and disseminate this environmental policy to all of our employees as well as to others who work for our company. |
| 7) | We present this environment policy to be available to the general public. |

Quality policy

| | |
| --- | --- |
| (1) | In order to follow our quality policy, we set our quality objectives, run the cycle of PDCA for accomplishing the objectives, and continue with our improvement activities.   |
| (2) | We take the feedback of our customers seriously and issues raised by them. We make the utmost effort to identify the root cause of the problem and to prevent recurrence of problems. We work on stabilizing our measures through the approach of horizontal deployment and by standardization. |
| (3) | We abide to applicable statutory and regulatory requirements, requirements according to the standards, and customer requirements. |
| (4) | We make continual improvement by undertaking a periodic review to maintain the effectiveness and adequacy of our quality management system. |